That is the kind of impro for a lazy Sunday: spinach, salmon and eggs. A quick and very tasteful recipe, rich in proteins and Omega 3.
Ingredients for 2 portions:
1 salmon filet (about 110 gr)
2 eggs + 3 egg whites
2 large handful of fresh spinach
1 teaspoon of creme fraiche, or milk if you don't have creme fraiche (optional)
Salt, pepper
Times:
Preparation: 10 mins
Cooking: 5 mins
Rest: none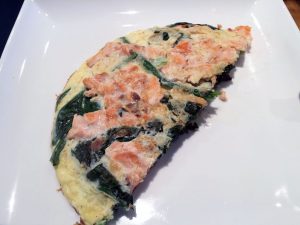 1- Mix all the eggs together in a bowl, with the creme fraiche, salt and pepper.
2- Wash the spinach, and put them into a hot pan over medium heat until they softened, then remove from heat and put aside.
3- Crumble the salmon in a hot pan and cook while squishing it with a spatula. Get rid of the extra oil that came out of the fish, put back the spinach evenly in the pan with the salmon, and pour over the beaten eggs.
4- Let cook over medium heat for a couple of minutes, and turn the omelette upside down (without breaking it! … good luck! 😛 ) to cook the other side a little bit. When it is cook to your taste, split it in to individual plate, and enjoy this protein boost, for under 300 cal / portions!