This recipe was inspired to me by another Lebanese recipe. My version is a much lighter one though, as the original contains deep fried bread (which I rarely add when I do it at home). But stil, it is very tasty without it. Don't get me wrong I love the traditional one, but wouldn't (and couldn't!) have it as often as my version as it is heavier.
Ingredients for 4 portions:
2 aubergines
1 small onion
6 larges tomatoes
125 g of minced beef
2 tablespoons of tomato puree
300 g of yogurt
3 garlic cloves
1 tablespoon of olive oil
1 tablespoon of Pine nuts
1 tablespoon of dry mint (according to your taste)
Salt, pepper
Times:
Preparation: 30 mins
Cooking: 10 mins
Rest: none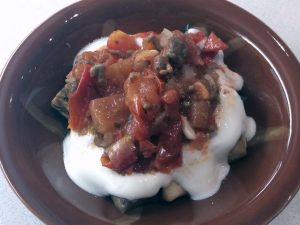 1- Wash and cut the aubergines into chunks (without peeling them).
2- Chop the tomatoes.
3- Chop the onions and put it into a hot pan over medium heat with a few drops of cooking oil. Cook for 3 minutes while stirring regularly. Add the minced beef, salt pepper, let cook for 5 minutes. Keep squishing the meat from time to time with a wide spoon.
4- When the meat is cooked, add the tomatoes and the tomato puree in the pan, keep over the heat for another 5 minutes. Then add the pine nuts, cook for another 2 minutes and remove from the heat.
5- Grill the aubergines in another hot large pan, over medium heat with the olive oil.
6- Squash the garlic and add it to the yogurt with the dry mint, salt, pepper and mix well.
7- Spread the warm aubergines into 4 individuals bowls. Cover them with the cold yogurt, and finish off with the warm tomatoes on top of the yogurt. The contrast between the warm/cold layers and the flavours is to die for!