This recipe is a Lebanese recipe called "3adass be hamod" in Arabic, meaning "lentils in lemon". I love it because it is one of my favourite winter-comfy-warm soup, but also, and mainly because it is one of my grand-mother's favourite too. The original version is made with chard instead of spinach, but I found them hard to find here plus, I love spinach! And also without potatoes, but I chose to add just one potato to add a little bit more texture.
Ingredients for 6 bowls:
250 g of red lentils
1 large potato
300 g of fresh spinach
5 garlic cloves
1 tablespoon of chopped fresh coriander
2 lemon juices
1,5 to 2 litres of water
Salt
Times:
Preparation: 10 mins
Cooking: 25 mins
Rest: none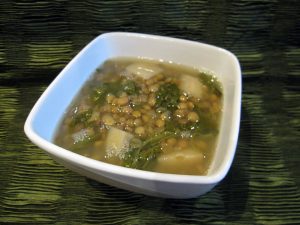 1- Soak the lentils for 10 minutes in hot water to soften them a little bit.
2- Peal and cut into 3 to 4 cm squares the potato. Crush the garlic with a pinch of salt, and wash the spinach leaves.
3- Boil the water in a large pan, add the potatoes, the spinach, the coriander, the garlic and the lentils. Cover the pan and cook for about 20 to 25 minutes over medium heat. (for the chard option: wash and chop finely the leaves and add them into the water same way as for the spinach leaves).
4- After 20 to 25 minutes, add a good pinch of salt and the lemon juice, stir a little bit and leave covered over medium heat for another 10 minutes.