We have friends coming over next week-end, and I think they might be bored with my « crudites platter ». I found on the web a recipe that first looked a bit strange to me, but after all why not. At least it looks easy, and I have the perfect guineapig for that! (Who as you can imagine validated the recipe, which is why it ended on my blog 😛 )
You will need a food processor and a plaque of silicone moulds.
Ingredients for 45 to 50 bites:
180 g of drained tuna (roughly)
50 g of tomato puree
60 g of crème fraîche
90 g of grated cheese (cheddar or gruyere)
4 eggs
Half a small onion (I tend to put more, as I love onions!)
Salt, pepper
2 tablespoons of chopped parsley (I use the dried one if I don't have any fresh leaves)
Times:
Preparation: 15 mins
Cooking: 25 mins
Rest: None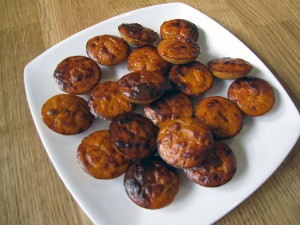 1- Chop the onions in the food processor. Then add all the other ingredients except the tuna and mix them all together.
2- Add the tuna and mix again (only a few seconds, just enough to mix evenly the tuna with the preparation)
3- Preheat the oven at 160 degrees Celsius. Fill up the little moulds (usually they come by plaque of 12 or more) with the mixture, and in the oven for 25 to 30 minutes (check your oven regularly from 20 minutes)
Enjoy those little bites at room temperature, or cold.