Last year for the first time, the whole family was gathered in our home for Christmas. So I tried to treat each and everyone according to their taste, starting with my dad. Those little biscuits are his favourite ever, as they are part of his childhood memories: his mum used to bake them at Christmas back in Oran. I struggled a bit to find the proper recipe, but after some research and a few tests, I came up with this recipe, which was a winner, as my dad loved them!
Ingredients for 24 biscuits:
500 g of flour
250 g of sugar
250 ml groundnut oil
Zest of half a lemon
½ teaspoon of baking powder
1 pinch of salt
Cinnamon
Times:
Preparation: 30 mins
Cooking: 12 mins
Rest: none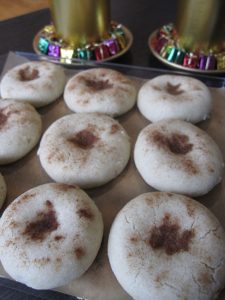 1- Mix the flour with the baking powder and the sugar.
2- Add one third of the oil, mix well, another third, mix again, and the last one. Mix well, either with a large spoon or directly with your hands. The dough should have the consistency close to a crumble.
3- Pre heat the oven at 160 Celcius degrees. Place a baking sheet over the baking tray. Divide the dough into small regular balls of about 40 grams and place them on the baking sheet (you can make them a bit smaller: 30 grams which will give you about 30 biscuits). Gently flatten them a little bit using your thumb.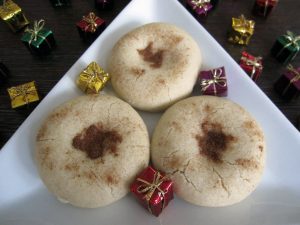 4- Enfournez 12 à 14 minutes, en surveillant la cuisson. Dès que les biscuits se fendillent, ils sont cuits. Retirez-les du four et mettez une pointe de cannelle au centre de chaque biscuit. Laissez-les bien refroidir avant de déguster.
Je vous conseille de manipuler ces biscuits avec précaution car ils s'effritent très facilement.
Recette inspirée par mon père
4- Put them into the oven for about 12 to 14 minutes. As soon as the biscuits start to crack on the side, they are ready. Take them out of the oven, let them cool down for 5 minutes, and add a pinch of cinnamon into the small cavity you did with your thumb earlier.
5- Wait for them to completely cool down and harden before digging into those little piece of heaven. One last thing: those biscuits are quite fragile, they should be manipulated with extra care, especially when you take them of the baking sheet.