I did that recipe for the first when we moved into our first flat in London. At that time, the size of my kitchen was less than 2 square meters. So cooking proper dishes was a big deal and required a lot of space management and organisation.
A few years later we moved to another flat, with a bigger kitchen, and obviously, more ratatouille! Here is my recipe 🙂 .
Ingredients for 6 portions:
5 chopped tomatoes (or a 400 g tin)
2 red peppers
4 courgettes
2 aubergines
2 large onions
4 garlic cloves (or more if you like garlic)
2 bay leaves
2 tablespoons of fresh thyme
Salt, pepper
A pinch of Cayenne pepper
A little bit of olive oil
Times:
Preparation: 30 mins
Cooking: 60 mins
Rest: none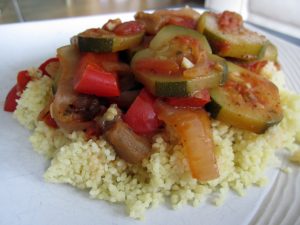 1- Rinse all the ingredients with water. Cut the pepper, take out the seeds and cut them into strips. Peel the aubergines and cut them into small cubes, and the courgettes into slices.
2- Chop finely the garlic and the onions and put them into a hot pan on medium heat with a little bit of olive oil (1 tea spoon should be enough)
3- In another large pan, cook the courgette with 1 to 2 teaspoons of olive oil for 2 minutes, then add the aubergines until they are golden (keep stirring regularly during the process). Pour into a large bowl and put aside.
4- In the same pan used for the courgettes and aubergines, cook the peppers with 1 to 2 tablespoons of olive oil for a good 3 to 5 minutes, on medium to high heat. Lower the heat and add the tomatoes and cook for 10 more minutes while stirring regularly. If necessary, you can add a little bit of water (100 to 150 ml depending how thick is the mixture).
5- Add all the others ingredients cooked previously to the peppers, as well as the herbs, salt and pepper, and give it a good mix. Simmer over low heat, covered, for 45 minutes to an hour (Don't forget to stir from time to time to make sure it doesn't attached to the bottom of the pan).
6- You can eat it cold or hot, with rice or couscous.