One thing I brought back from my trip to Hungary is a large stock of Paprika. I have never seen a country so proud of a spice. But if I am honest they are right, first because the taste is very yami, second because it is a very powerful spice as it is very good for your health: rich in vitamins A and E, in iron, and potassium, it reduces the risks of stroke and heart attack, and promote healthy sleep.
Ingredients for 4 portions
1 butternut squash
1 cauliflower
3 or 4 garlic cloves
1 tablespoon of olive oil
1 to 2 tablespoons of dry origan and/or basil
1 teaspoon of Paprika
Some sesame seeds (optional)
Salt, pepper
1 bag of rocket salad (about 200 g)
Times:
Preparation: 20 mins
Cooking: 40 mins
Rest: none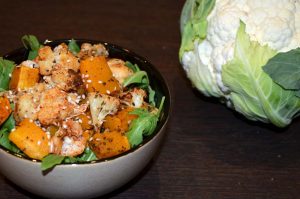 1- Peel and chop the butternut squash into regular dices. Wash and drain the cauliflower and cut it into small pieces. Wash and cut the peppers into regular straps or squares.
2- Preheat the oven at 180 Celsius degrees. Put all the vegetables into a large bowl with the garlic cloves, the olive oil, the herbs, the Paprika, salt and pepper, and mix well.
3- Spread evenly into a large greased oven dish, add a last pinch of Paprika, and put in the oven for 30 to 40 minutes, depending how you like your veggies.
4- Let them cool down for 5 minutes. Spread the rocket salad evenly into 4 individual dishes, put the vegetables on top once they are at rom temperature, and last touch: sprinkles some sesame seeds all over.