You can't go wrong when you mix chocolate with fruits! Any fruits! But some work better than other, and among my favourites (after banana and strawberries of course!), come the pears. I have this recipe from a small chocolate themed recipe book that my friend offered me a couple of years ago. I hope you will like it as much as we all did at home! 🙂
Ingredients for 6 portions:
Pastry (for a 24 cm diameter tin):
100 g of flour
60 g of soft butter
25 g of grounded almonds
2 to 3 tablespoons of water
Filling:
400 de pears (I use the canned ones)
100 g of butter
100 g of sugar
4 eggs
200 g of grounded almonds
3 tablespoon of cocoa powder
Times:
Preparation: 25 mins
Cooking: 35 mins
Rest: 15 mins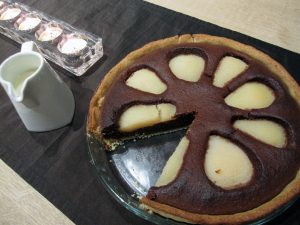 Pastry:
1- Mix the flour and the grounded almonds. Add the soft butter and mix well, then add the water one spoon at the time while mixing in between to check the consistency of the dough. You should end up with a "not too sticky" dough, that you will shape into a ball and put in the fridge for 15 minutes, wrapped in cling film.
2- After 15 minutes roll out the pastry and line a greased tart tin (of 24 cm diameter) and prick the pastry case all over with a folk. Keep in the fridge while you prepare the filling.
Filling:
3- Preheat the oven at 210 Celsius degrees. Beat the butter with the sugar until creamy. Add the eggs one by one, and mix well in between.
4- Add the grounded almond and the cocoa powder and stir to incorporate them. Spread the mixture over the tart. Drain the pear, cut them into halves or quarters and spread them nicely and evenly on the chocolate filling.
5- Put into the oven for 30 to 35 minutes. Let cool down and enjoy this masterpiece at room temperature. My personal preference? With a scoop of vanilla ice cream, or vanilla custard! Heaven!