That's the second recipe I am posting since New Year, and with it all my traditional good resolutions of January are thrown in the bin. But I can't resist the creaminess of the lemon cream, enhanced by the crunchiness of the pastry base. I defy you to blame me after trying this lemon tart! 😛
Ingredients for 6 portions:
The base:
250 g of flour
120 g of soft butter
60 g of sugar
2 egg yolks
10 to 15 cl of water
1 pinch of salt
The filling:
115 g of sugar
4 eggs
3 lemons juices (about 100 ml) + their zest
75 g of soft butter
1 tablespoon of corn starch (Optional)
Times:
Preparation: 30 mins
Cooking: 10 mins
Rest: none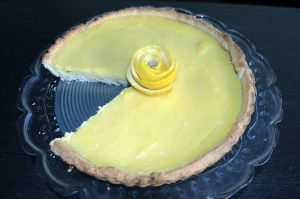 The base:
1- Beat the sugar and the yolks, and soften the mixture with a little bit of water.
2- In another large bowl mix the flour with the butter. Then add the eggs and mix until the dough is even. If needed add a little bit of flour.
3- Preheat the oven at 200 Celsius degrees. Roll out the pastry on a lightly floured surface, then line a 24 cm diameter tart tin. Press down gently on the bottom and sides, then trim off any excess pastry. Fill with dried beans. Bake for 15 minutes, then remove from the oven and remove the beans from the pastry.
The filling:
4- Beat the eggs and the sugar until creamy. Add the soft butter and mix well.
5- Add the lemon juices, the zest, and the corn starch. Pour the mixture in a pan over medium to low heat and keep stirring gently for 5 to 10 minutes, until the cream thickened.
6- Remove from heat and let cool down for 5 minutes. Then pour it over the baked pastry and into the oven for 10 to 15 minutes at 180 Celsius degrees.
Let the tart completely cool down before eating it to allow it to set.