The sfoufs are Lebanese cakes made with semolina and flavoured with curcuma. It might sounds a bit weird, but it is actually super yami and super easy to make! I won't say more, and will let you give it a try, you will see by your self 🙂
Ingredients for 25 sfoufs:
225 g of semolina
75 g of flour
200 g of sugar
25 cl of milk
15 à 20 g of pine nuts
1 tablespoons of turmeric
2 teaspoons of baking powder
10 cl of sunflower oil
10 cl of groundnut oil (or sunflower oil if you don't have groundnut oil)
Times:
Preparation: 20 mins
Cooking: 30 mins
Rest: none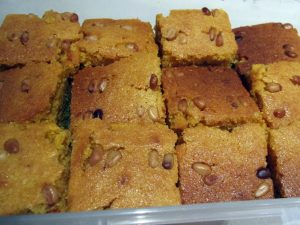 1- Preheat the oven at 180 Celsius degrees. Mix together the baking powder, the flour, the semolina and the curcuma.
2- Warm up the milk a little bit, add the sugar and melt until it is dissolved. Then pour it little by little over the flour and mix until well combined. Finish by adding the oils and mixing again.
3- Pour the batter in a greased and floured square cake tin, decorate with pine nuts and put into the oven for 30 minutes.
4- Let it cool down for 5 to 10 minutes before cutting it into 25 squares, then wait another 10 minutes at least before taking them out of the tin. Put on a wire rack to let them cool down completely.