I am a little bit bored with the usual side dishes: mashed potatoes, rice, green beans? I want something different. Not necessary sophisticated or complicated, just different. And those "hasselback" potatoes will perfectly do!
Ingredients for 4 portions:
4 large potatoes
4 garlic cloves
4 tablespoons of olive oil
1 tablespoon of grated Parmesan
1 pinch of salt
1 pinch of paprika
Chopped chives to decorate the plate
Times:
Preparation: 15 mins
Cooking: 40 mins
Rest: none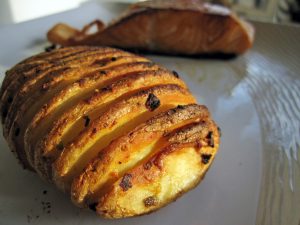 1- Wash the potatoes. Cut very thin slices but not until the bottom so they stay attached to the base of potato.
2- Preheat the oven at 220 Celsius degrees. Chop finely the garlic and put into a bowl with the olive oil, the Parmesan, salt and paprika, and mix well.
3- Put the potatoes into a greased baking dish and spread the oil over them with a brush. Make sure you go deep between the slices.
4- Put in the oven for 40 to 50 minutes. Sprinkle some chives over before eating warm.