Depending if they are cooked or not, courgette's taste can be completely different, and that is true for this veggie even more than for any other. This salad was a complete improvisation, and ended up to be a good one! I can never get bored of the crunchiness of the raw courgettes!
Ingredients for 2 portions:
2 large courgettes
4 dry tomatoes
4 cherry tomatoes
About 10 crushed cashew nuts
2 garlic cloves
1 teaspoon of crème fraiche
1 tablespoon of lemon juice
1 teaspoon of curry powder
Basil (fresh or dry)
Salt, pepper
Times:
Preparation: 15 mins
Cooking: none
Rest: none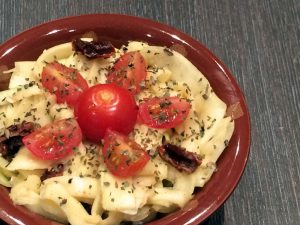 1- Soak the dry tomatoes in hot water for 15 minutes to soften them.
2- Wash and grate the courgette into straps, up to the seeds (that you will get rid of) then press the straps on kitchen paper to dry them.
3- In a large bowl, put the courgette straps with the creme fraiche, the lemon juice, curry powder, salt, pepper, crushed cashew and crushed garlic and mix well.
4- Drain the water of the dry tomatoes, press them on a kitchen paper to dry. Chop and add to the courgettes.
5- Spread the courgettes evenly into 2 individual bowls. Cut the cherry tomatoes in 4 and put them on top of the salad to decorate, and add the final touch with a sprinkle of basil.