The cucumber/avocado mix is always a winner. That's why today I am experimenting with this mini smoothie with avocados and cucumber. For once we have a warm weather here, and it is the perfect timing to try those fresh and healthy little glasses. As a appetiser, or a light starter, they are refreshing either way.
Ingredients for 8 verrines:
2 avocados
1 large cucumber
l lime and a half
Salt, pepper
4 iced cubes
2 tablespoons of olive oil
4 rosemary sprigs + 2 to decorate
4 cherry tomatoes
Times:
Preparation: 15 mins
Cooking: none
Rest: 30 mins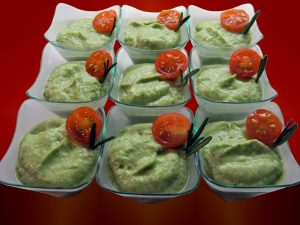 1- Wash the cucumber, cut it lengthwise into 4 quarter, take off the seeds off and cut into chunks.
2- Cut the avocados in 2, remove the flesh and cut it in 2 or 3. Squeeze the juice out of the limes.
3- Put the cucumber and the lemon juice in a food processor and mix well.
4- Add the avocados, the oil, salt, pepper and rosemary, and mix again. Then add the iced cubes and mix for a couple of minutes until smooth.
5- Pour evenly into the verrines, and leave in the fridge for a minimum of half an hour. You can decorate with cherry tomatoes and some rosemary leaves.