After the massive success of those biscuits during the last Christmas holidays, I gladly "had to" share the recipe on my blog! According to some feedback I had when I baked them the first time, they are "absolutely divine"! Do you think you would like them too?
Ingrédients for 16 biscuits:
110 g of flour
70 g of soft salted butter
70 g of grated Parmesan
6 dry tomatoes
2 tablespoons of pistachios
½ teaspoon of Espelette chilli (French spice)
Times:
Preparation: 20 mins
Cooking: 10 mins
Rest: 15 mins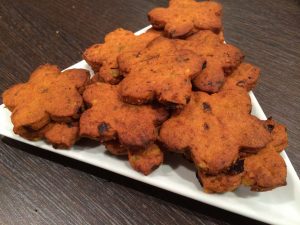 1- Soak the dry tomatoes into hot water for 15 minutes to soften them. Then drain the water and press the tomatoes on a kitchen towel to dry and chop them finely. Crush the pistachios.
2- In a large bowl, mix the flour, the Parmesan, the chilli and the soft butter until the mixture crumbles a little bit.
3- Add the dry tomatoes and the pistachios and mix well (I usually do it by hand, folding back the dough on itself and crushing it with my palm).
4- Shape the dough into a ball and keep in the fridge for 15 minutes.
5- Roll out the dough to 5mm thickness then use a cookie cutter to cut into different shapes and put them on a baking paper, on the oven tray and in the oven for 10 to 11 minutes. The edges should have a golden colour when ready. Let the biscuits completely cool down on a wire rack to allow them to set and harden.