Have you ever heard about the famous French author Marcel Proust? One of his book: "Du côté de chez Swan", is particularly famous for a scene where he describes how the smell of biscuits reminded him of his childhood, and all the memories that started flooding into his head along with that smell. So when I came across my first madeleine recipe, I couldn't help but thinking of that book that I had to study in high school.
For those little madeleines, you will need moulds with special shape. I use a silicone sheet where you can bake 10 to 15 madeleines at the time. They are very practical, as you don't need to grease it. If you don't have them, they are easily found online.
Ingredients for 72 mini-madeleines:
150 g of flour
100 g of soft butter
120 g of sugar
2 eggs
2 tablespoons of milk
2 tablespoons of blossom water
1 teaspoon of baking powder
1 pinch of salt
Times:
Preparation: 20 mins
Cooking: 8 mins
Rest: 1 h (optional)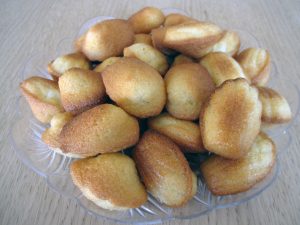 1- Beat the eggs with the sugar until smooth and creamy.
2- Incorporate the baking powder and the salt to the flour, and add to the eggs, stir vigorously until well combined.
3- Add the butter, mix well, then add the milk, the blossom water and mix well. Leave the batter in the fridge for an hour (this is optional, I never do it as far as I am concerned, as I am always in a rush).
4- Preheat the oven at 220 Celsius degrees. Put the silicone sheets on a oven trail and fill every hole only up to two third as the madeleine will rise.
5- Put into the oven for 4 minutes, then lower the heat to 180 Celsius degrees and leave for another 3 to 4 minutes (keep an eye on them as they can burn quite quickly).
6- Let them cool down a few minutes, then gently take them out of the mould and let them cool down completely on a wire rack.