I tried Thai food for the first time during my trip in Thailand. I have never had it before that, as I never really liked spicy food. But unless I was willing to eat rice and fruits for 3 weeks, I had to make an effort and at least give it a try during my stay there. Among all the things I have tried, one of my favourite is definitely the "Tom Kha Gai" (tom: cooked, kha: ginger, gai: chicken).
Ingredients for 4 portions:
500 g of chicken breast
1 large onion
2 tomatoes
400 ml of coconut milk
500 ml of chicken broth
3 lemongrass sticks
6 to 7 cm of ginger roots
300 g of mushroom
Fresh coriander
2 or 3 chilli slices (according to your taste)
1 tablespoon of fish sauce (optional)
Times:
Preparation: 25 mins
Cooking: 15 mins
Rest: none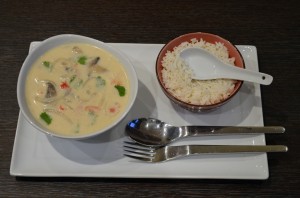 1- Slice the onion finely and cook it over medium heat for a couple of minutes, until it becomes transparent, then remove from heat and set aside.
2- Slice the ginger, and cute the lemongrass in chunks.
3- Pour the coconut milk and the chicken broth with the ginger and the lemongrass in a deep pan over medium heat, while stirring regularly. When it starts to simmer lower the heat and cook for 5 minutes.
4- Cut the chicken into medium size slices, cut the tomatoes, and add chicken, tomatoes and onions into the pan. Let it cook over low heat for 10 minutes while stirring regularly.
5- Slice the mushroom, pick the coriander leaves off and add them to the pan with the fish sauce, and leave over the heat for 2 more minutes.
6- Enjoy this delicious soup warm with rice.