I made this cake for the first time 2 years ago for a birthday. That was my first « nice looking » cake, with chocolate sauce and decoration. I remembered this cake as being hard to make because of the frosting, but decided to give it another try anyway, and it actually, wasn't that bad. I guess I made some progress in 2 years 😛
Ingredients for 8 portions:
The cake:
200 g of dark chocolate
150 g of soft butter
130 g of sugar
3 eggs
60 g of flour
1 pack of vanilla sugar
1 pinch of salt
Topping+decoration:
400 to 500 g of strawberries
100 g of dark chocolate
35 g of soft butter
Time:
Preparation: 30 mins
Cooking: 20 mins
Rest: none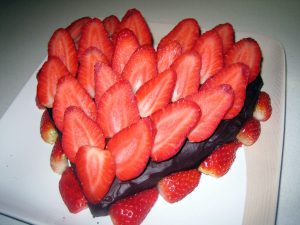 1- Preheat the oven at 180 Celsius degrees.
2- Melt the 200 g of chocolate in a bain-marie. Once it is melted add the butter and whisk vigorously. Add the sugars, the salt and stir well. Then the eggs and mix again until well combined. Finish with the flour that you will add little by little and stir gently with a spoon.
3- Pour the mixture into a greased and flowered heart shaped mould and into the oven for 15 minutes (if you are using silicone mould, there's no need to grease it).
4- Then drop the oven temperature to 160 Celsius degrees and leave the cake for 5 more minutes. At the end of the baking time, turn off the oven, open the door, and leave the cake inside to cool down gently for about10 minutes. Once it is chilled you can take it out of the mould.
5- The chocolate topping:
Melt the 100 gr of chocolate in a bain-marie. Then add the 35 g of butter and stir it until creamy and smooth. Let it cool down and spread it evenly on the cake.
Wash and cut in two the strawberries, and decorate the cake according to your inspiration. Keep it in the fridge for at least an hour to set the topping properly before eating this deliciousness.
You can also decorate this cake with other fruits such as kiwis, raspberries, etc, but as far as I am concerned: chocolate/strawberries is the winner! 🙂