I like this aperitif platter; it has a lot of taste and colours. It is also simple and quick to make One of the classics that I like to prepare when we have friends coming over (like this evening), and I am (as usual!) very late!
Ingredients for 6 portions:
1 large cucumber
1 can of black olives
1 can of green olives
1 pack of cherry tomatoes
1 mozzarella
Some carrots
1 lemon juice
Salt, pepper, « herbes de Provence »
Standard cottage cheese, or Philadelphia
1 coffee cup of milk
1 tablespoon of parsley (fresh or dried)
Ketchup, mayonnaise and mustard
Times:
Preparation: 20 mins
Cooking: none
Rest: none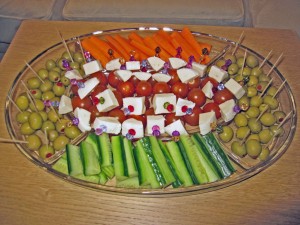 1- Wash all the vegetables. Peel the carrots, then the cucumber by alternating the bands to keep a little bit of the skin (the vitamins are in the skin thus I always leave some), and cut them into sticks.
2- Cut the mozzarella in small dices, and prick one dice with one cherry tomato on a toothpick, and sprinkle some herbes de provence on them. Also prick black and green olives with toothpicks.
3- Then put everything in small platters, or a big one.
Cocktail dip:
Mix the same amount of ketchup and mayonnaise in a small bowl, with a little bit of mustard.
Cheese dip:
Add the milk little by little to the cottage cheese with the lemon juice, the parsley, salt and pepper.