I know, that's not one of the healthiest recipes of my blog, but it is important to treat your self from time to time, especially for breakfast (or brunch if you are not an early bird) on the weekend.
This French recipe is usually cooked plain, with only egg and crème fraiche, but out of respect for my adoptive country, I had to add some bacon to it. 🙂
Ingredients for 2 portions:
2 eggs
3 slices of bacon
10 cl of crème fraiche
Half a teaspoon of mustard
2 tablespoons of grated cheese (optional)
1 teaspoon of chopped fresh chives (or dry of you don't have it)
Pepper
Times:
Preparation: 10 mins
Cooking: 15 mins
Rest: none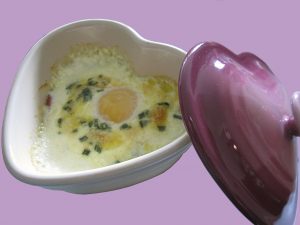 1- Preheat the oven at 180 Celsius degrees. Line 2 ramequins with a slice of bacon and put them in the oven for 5 minutes. After 5 minutes take them out and let cool down.
2- Raise the oven temperature to 200 Celsius degrees.
3- Chop the third slice of bacon in small bits. Throw the mustard, the crème fraiche, the chives, the chopped bacon with pepper in a bowl and mix well.
4- Pour the mixture evenly in the ramequins over the baked bacon, and break an egg (without breaking the yolk if possible) in each recipient. Finish by adding some grated cheese on the top.
5- Put the ramequins in the oven in a bain-marie for about 10 minutes. Enjoy them warm with toasted bread.