After I made a tart Provençale this week, I had some courgettes and tomatoes left over, and as I hate wasting food, the obvious quick, lazy but still healthy choice was to make an omelette out of it. So that what I made with my left overs, but you can add anything you want in it: mushrooms, ham, or anything that is about to go to waste in your fridge and that you don't want to throw away.
Ingredients for 2 portions:
Some courgettes left over
Some tomatoes left over
3 tablespoons of milk
1 teaspoon of oil
3 eggs
Herbes de Provence (optional)
Salt, pepper
Times:
Preparation: 5 mins
Cooking: 5 mins
Rest: none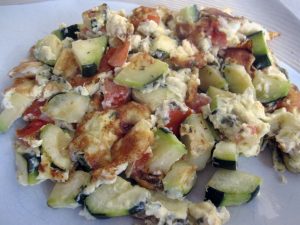 1- Beat the eggs with the milk, the herbes de provence, salt and pepper.
2- Put the courgettes and tomatoes into a hot pan and cook them over medium heat for just 2 minutes. Add the oil and pour the beaten eggs over the vegetables. Let cook until it has the consistency you want (either well done or running omlette).
3- Turn it over for a couple of minutes, and enjoy it with toasted bread.