There are a thousand versions of this cake. However, for me "THE" one is my mum's. She used to bake it for us after school.
After high school I didn't have it for years, until last year: I was visiting my parents and my mum had baked it for the occasion my cake! With the taste, came back the memories, and as soon as I headed back to London, I found myself in my kitchen, trying to bake the famous cake.
Ingredients:
250 g of flour
200 g of pitted olives (green and/or black)
5 slices of ham
150 g of grated Gruyere
4 eggs
10 cl of olive oil
10 cl of white wine
1 small bag of baking powder (7 g roughly)
Salt, pepper
Times:
Preparation: 20 mins
Cooking: 35 mins
Rest: none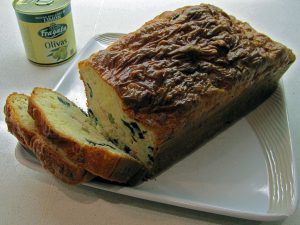 1- Preheat the oven at 190 Celsius degrees. Chop the olives into small bits, and the ham into strips.
2- Mix the flour, the baking powder, salt and pepper in a large bowl. Add the eggs one by one and mix between each. Then add the wine, the olive oil and mix again.
3- Add the ham, the olives and the gruyere and give it a good swirl using a big spoon.
4- Pour the mixture into a greased cake pan and into the oven for 35 minutes. Let the cake cool down before taking it out of the pan. You can enjoy it a little bit warm or at room temperature.