Recipes are like shoes in a way, we go through different phases: the flats, the flip-flops, the high heels, the sporty ones, etc. I am the same in my kitchen, and at the moment, I am in a « terrine » mood. That's probably because of my last trip to Harrods food hall, where there are all those lovely and colourful terrine displayed. Here is my first attempt. I hope you will like it as much as I did. 🙂
Ingredients for 8 portions:
350 g of salmon fillet
350 g of smoked salmon
150 g of green beans
150 g of carrots
3 toasts
150 g of crème fraiche
2 eggs
1 lemon juice
Salt, pepper
1 pinch of cumin (more or less according to your taste)
A little bit of chives (also more or less according to your taste)
Times:
Preparation: 40 mins
Cooking: 30 mins
Rest: none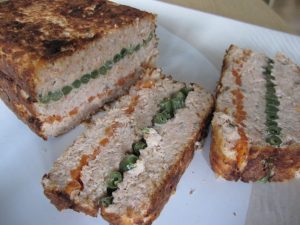 1- Peel, wash and cut the carrots into thin strips. Cook the vegetables separately into boiling water until they are tender (5 to 10 minutes). Drain them, and cut the beans into 2 or 3 sections. Add the cumin to the carrots and mix a little bit.
2- Cook the salmons into boiling water for 10 minutes. At the end of the cooking time, crumble them into a large bowl. Chop finely the chives and crumble the toasts.
3- In another bowl beat together the eggs, the crème fraiche, the toasts, the chives, the lemon juice, salt and pepper (you can also do that in a food processor if you have one). Add this mixture to the salmons and mix it well.
4- Preheat the oven at 220 Celsius degrees. Pour one third of the mixture into a greased cake pan. Cover with the green beans (leave ½ cm on the edges). Add another third of the mixture and cover it with the carrots, and finish with the last third on the carrots.
5- Put in the oven for 30 minutes. Serve warm or cold, according to your own preferences, with a green salad and a drizzle of lemon juice.