Chicken liver, really? I don't know what came into my mind when I bought that! I don't even know how to cook them! And as much as I love to learn, those don't look appealing at all! But they are in my kitchen now, and no way for me to bail. A few Youtube videos later, here I was mastering the art of cutting chicken liver and preparing my first chicken liver salad!
Ingredients for 2 portions:
12 cherry tomatoes
2 shallots
2 slices of bacon (or lardons)
200 g of chicken liver
150 g of rocket salad
2 tablespoons of balsamic vinegar
3 tablespoons of olive oil
A little bit of grated Parmesan
Salt, pepper
Times:
Preparation: 30 mins
Cooking: none
Rest: none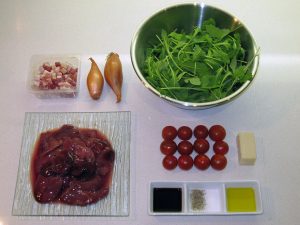 1- Wash and cut the cherry tomatoes into quarter, and put them in a bowl with one tablespoon of balsamic vinegar, one tablespoon of olive oil, a pinch of salt, pepper, stir a little bit and let it marinate.
2- Wash and drain the salad. Prepare the chicken livers (by removing the middle part).
3- Cut the bacon into small bits, put it into a hot pan for a few minutes, then on a paper towel to absorb the excess of fat. Set aside.
4- Chop the shallots finely and cook them in another pan with one tablespoon of olive oil for 2 minutes over medium heat. Add the bacon, the chicken livers, and leave over medium heat while stirring regularly, for about 5 to 6 minutes.
5- When the livers are cooked (be careful don't overcook them like me the first time! :/ ), remove from heat and add one tablespoon of balsamic vinegar, and stir well.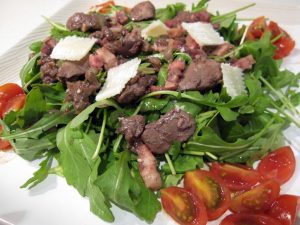 6- Split the rocket equally in 2 plates. Do the same with the chicken liver mix, the tomatoes, and their marinade. Finish off with some parmesan flakes all over the salad, and bon appetite!