A super busy week, an improvised diner for 8, less than 3 hours on D day to prepare everything, but no stress, I have everything under control!
It has been a long weekend, frankly, I am a little bit tired, and have no energy to go into details as I usually try to do when I have people over for diner. This salad was a life saviour: quick, easy and tasty! That was perfect for my diner.
Ingredients for 6 portions:
5 tomatoes
1 cucumber
2 red peppers
200 g of radish
1 red onion
100 to 150 g of black olives
1 tuna can
3 tablespoons of olive oil
2 tablespoons of vinegar (either balsamic or red wine)
Salt, pepper
Some mint leaves (optional)
Times:
Preparation: 20 mins
Cooking: none
Rest: none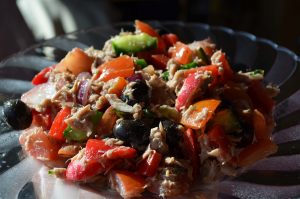 1- Wash all the vegetables. Chop each tomato into 12 pieces. Cut the cucumber in 4 parts length wise, remove the seeds, and chop it.
2- Chop the peppers into small dices, slices the radishes, and chop the onion finely.
3- Mix all the ingredients into a large bowl. Drain the water from the tuna can and add the tuna in the bowl with the olives, mix well.
4- In a smaller bowl, mix the oil with the vinegar, salt and pepper and mix well.
5- Keep the salad in the fridge until time to serve. When you are ready to eat, pour the dressing in it and mix well.