That soup recipe is really similar to my first vegetable soup. I just removed/added some vegetables to change the taste a little bit, but other that that it is the same kind of easy and quick recipe. The main difference is the celery (which is one of the many vegetables I use to dislike… a lot. But as I said, things change, and celery has recently earned a free pass in my kitchen! 🙂
Ingredients for 5 portions:
1,5 to 2 litres of water (depending the level of thickness you want your soup)
1 large potato
2 leeks
1 large celery
2 courgettes
Salt, pepper
Times:
Preparation: 20 mins
Cooking: 25 mins
Rest: none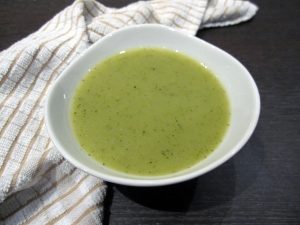 1- Boil the water in a large deep pan.
2- Peel the potato and wash it as well as the courgettes. Cut them into chunks and put them into the boiling water.
3- Cut the leek in their length and wash inside the leaves. Then slice them roughly and leave them on the side.
4- Now the celery: When you're separating the celery leaves from the stalks, carefully bend the part right under the leaves from the curved inside to the straight outside. The strings connect the two parts, so gently pull the leaves down the stalk and the strings will come with them. Wash the leaves and cut them into 2 to 3 cm pieces.
5- Put the leek and the celery into the boiling water. Add salt, pepper and leave for 20 to 25 minutes while stirring from time to time. Make sure the vegetables are cooked, then let cool down a little bit before mixing them with either a blender or a hand blender. It's ready!