Even though the weather is more about warm soup, I couldn't miss the last melons of the season, especially with this recipe which is a little bit unusual, so easy to make, and super tasty!
Ingredients for 6 ramequins:
1 melon (about 400 to 500 g of flesh)
1 large mango (about 250 g of flesh)
50 cl of olive oil
A few mint leaves
Salt, pepper
A couple of iced cube
Times:
Preparation: 10 mins
Cooking: none
Rest: none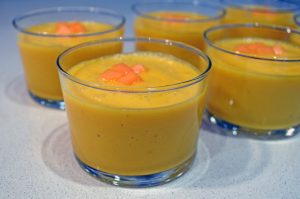 1- Peel and cut the fruits into squares. Keep 3 to 4 tiny dices on the side to decorate and put the rest in a blender. Add the mint leaves, the olive oil, salt, pepper, and iced cubes, and mix for at least a couple of minutes, until very smooth.
2- Keep in the fridge until time to serve.