I love Thai food, even though the only negative aspect of it, is that the desserts menu is usually as poor as the main dishes menu is rich. Having said that, the few desserts they have are worth it, especially all the "sticky rice" based ones, that I love as they remind me of French rice pudding. Here is one of the variation of that dessert that I like: with pineapple, but it works also really well with mango for example.
Ingredients for 4 portions:
100 g of round rice (like the risotto rice)
3 tablespoon of sugar
30 cl of milk
20 cl of coconut milk
4 to 8 pineapple slices
Times:
Preparation: 10 mins
Cooking: 20 mins
Rest: 30 mins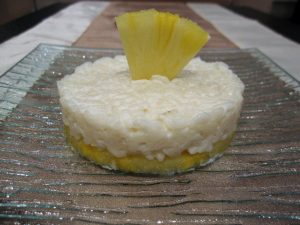 1- Pour both milks in a deep pan over medium heat and let simmer while stirring from time to time so it doesn't stick to the bottom.
2- Add the rice and let cook for 20 minutes over low heat until the rice is smooth and the milk almost completely absorbed (it will harden a little bit more when cooled off). Keep stirring every few minutes.
3- When the rice is cook, remove from heat and add the sugar, stir well and let cool down for a few minutes, but keep stirring regularly.
4- Put one pineapple slice in the middle of each dessert dish, put a round cookie cutter of the same diameter over the pineapple slice, and spread the rice evenly over it. Push down with the back of a spoon, and remove gently the cookie cutter while holding the rice with the spoon so it doesn't come up with the cookie cutter.
5- Keep in the fridge at least 30 minutes before serving. You can add an extra slice of pineapple on top of the rice when serving the dessert.