When I was younger …waaay younger, I was a lot into Disney. And I used to love the recipes I found in the magazines. So one day my mum offered me a whole recipe book, my first one actually, called "Les recettes de Disney", or "Disney recipes" to translate the title. I loved it and tried a lot of its recipes. Among them this one called "the beagle boys pie".
Ingredients for 6 portions:
250 g of « fromage frais » (or cottage cheese)
2 eggs
100 g of sugar
125 ml of milk
50 g of flour
20 g of flaked almonds (optional)
Half an orange zest
Times:
Preparation: 20 mins
Cooking: 50 mins
Rest: none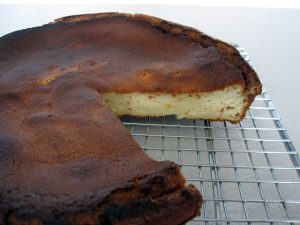 1- Preheat the oven at 180 Celsius degrees.
2- Separate the egg whites from the yolks. Beat the yolks with the sugar, the orange zest, and the fromage frais.
3- Add the flour, stir well and then add the cold milk. Mix well until smooth. If you chose to ad almonds, add them not and stir to incorporate them.
4- Beat the egg whites vigorously until foamy and firm, and incorporate them gently little by little to the batter.
5- Pour the mixture into a greased and flowered 20 cm diameter pie dish (if you are using a silicone mould, there's no need to grease it), and put in the oven for about 50 minutes. This pie is good either cold or at room temperature.