This recipe is a calling for all the aubergine lovers! A good friend of mine invited us for diner a while ago, and she made this Lebanese version of the moussaka. As a true aubergine lover myself, I left her house that night, with the recipe. I am sure she won't mind if I share the love with you here 🙂
Ingredients for 4 portions:
3 aubergines
1 onion
400 g of canned chopped tomatoes
2 large tomatoes
1 can of chickpeas (400 g)
5 garlic gloves
1 small glass of water
A pinch of cinnamon
A pinch of cumin
Salt, pepper
Chilli (optional)
Times:
Preparation: 30 mins
Cooking: 45 mins
Rest: none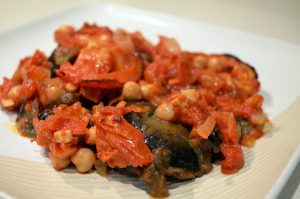 1- Wash, peel and slice the aubergines (you can also chop them, according your personal preference), and grilled them for 5 minutes in a hot pan. Rinse and drain the chickpeas.
2- Preheat the oven at 220 Celsius degrees. Spread the aubergines in a greased baking dish, with the chickpeas.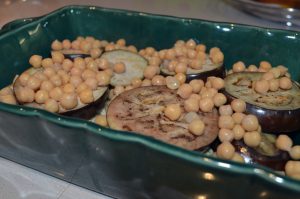 3- Chop the onion, the garlic and cook them in a hot pan with a teaspoon of olive oil for 5 minutes, over medium heat. Chop one large tomato and add it in the pan with the canned chopped tomatoes, the glass of water, and the spices, and cook over medium heat for 10 to 15 minutes. Don't forget to stir regularly.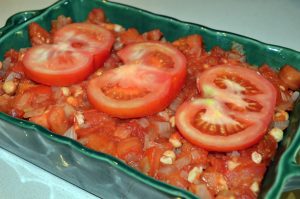 4- When it is cooked, pour evenly over the aubergines.
5- Slice the second tomato and put the slices over in the baking dish. Put in the oven for 40 to 45 minutes. It's ready when the surface is slightly burnt.