This soup is literally the first one I have ever made from scratch! Ok, nothing extraordinary about that, after all it is just boiled water and vegetables, but when you come from dried soup mixes, to that, it is a big step! 😛
You will need either a blender or a neck blender to mix the vegetables at the end.
Ingredients for 5 large bowls:
1,5 litre of water
1 beef stock
2 average size potatoes
2 leeks
3 or 4 carrots
1 onion
2 courgettes
Salt, pepper
Times:
Preparation: 20 mins
Cooking: 30 mins
Rest: none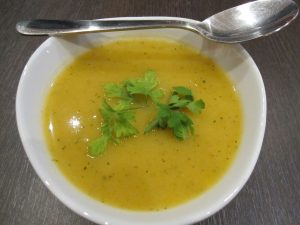 1- Boil the water in a very large pan and melt the beef stock into it.
2- Peel the potatoes and the carrots. Rinse them as well as the leeks (cut in 2 to rinse inside the leafs) and the courgette.
3- Cut all the vegetables into pieces and ad them into the boiling water with salt and pepper.
4- Cover the pan and let it cook on medium heat for 20 to 25 minutes while stirring from time to time.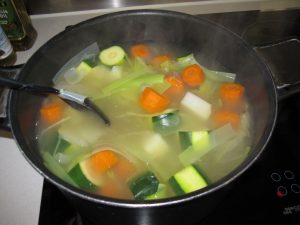 5- Let it cool down a little bit before mixing them (to avoid damaging your food processor if too hot). And here we go: it's ready! 🙂