I love marshmallows! I know they are super not healthy and on the totally opposite direction of the healthy eating I always try to promote, but I still love them 😛
When I first arrived in London, I discovered the "mini marshmallows". I know. It sounds stupid now, but a decade ago it didn't, at least to me! So here is my first recipe with he mini-marshmallows. Super easy and quick to make!
Ingredients for 8 verrines:
2 apples
6 petits suisses
1 pack of mini-marshmallows
125 g of yogurt
30 g of sugar
2 teaspoon of vanilla sugar
Chocolate vermicelles (optional)
8 toothpicks
Times:
Preparation: 20 mins
Cooking: none
Rest: 1 h (optional)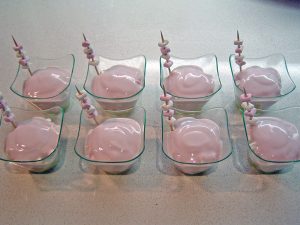 1- Wash, peel and chop the apples into small dices. Put them into a hot pan over medium heat with 5 cl of water and the vanilla sugar for about 10 minutes, while stirring gently regularly. Set aside and let cool down.
2- Mix vigorously the petits suisses, the yogurt and the sugar.
3- Spread the apples into the verrines, then the yogurt mix and sprinkle so chocolate vermicelli all over.
4- Put some marshmallows on the toothpicks and use them to decorate the verrines.
5- Those little gems are even better if you have them cold, straight from the fridge.