This mashed carrots is as tasty as colourful, and add an unusual touch to the side dishes, as we know them such as fries, salad, or mashed potatoes. The contrast between the taste of the spices and the carrots is surprising and the combination is very subtle. It goes particularly really well with chicken and duck meat.
Ingredients for 4 portions:
1 kg of carrots
50 g of butter
5 cl of crème fraiche
A large pinch of mixed spices (« 4 spices »)
1 pinch of salt
Times:
Preparation: 10 mins
Cooking: 15 mins
Rest: none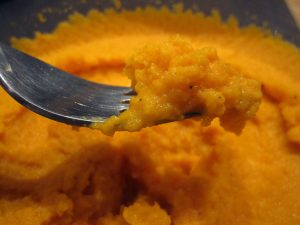 1- Peal the carrots, wash and slice them. Boil water in a pan and put the carrots for about 15 minutes (until you can put a knife through them easily).
2- Drain the carrots, add the butter, the crème fraiche, the spices and the salt, and mash with a folk if you like it a little bit crunchy, or in a food processor if you like it very smooth.