After the blossom water flavoured mini madeleines, here is the chocolaty version of those typical French little cakes. But I really can't make up my mind between the two options, as I found them both delicious, in their own way! 🙂
Ingredients for 72 mini-madeleines:
100 g of flour
50 g of soft butter
90 g of sugar
2 eggs
80 g of grated chocolate
2 teaspoons of vanilla extract
1 teaspoon of baking powder
1 tablespoon of crème fraiche
1 pinch of salt
Times:
Preparation: 20 mins
Cooking: 8 mins
Rest: 1 h (optional)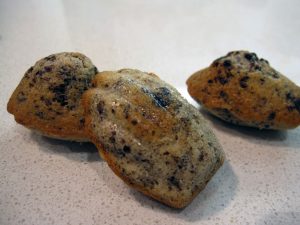 1- Preheat the oven at 220 Celsius degrees. Beat the eggs with the sugar and the salt until smooth and creamy.
2- Incorporate the baking powder and the salt to the flour, and add them to the eggs. Stir vigorously until combined.
3- Add the crème fraiche, the soft butter and the vanilla extract and mix well.
4- Finish with the grated chocolate.
5- Put the silicone sheets on an oven trail and fill every hole only up to two third as the madeleine will rise. Put into the oven for 4 minutes, then lower the heat to 180 Celsius degrees and leave for another 3 to 4 minutes (keep an eye on them as they can burn quite quickly).
6- Let them cool down a few minutes, then take them gently out of the moulds and let them cool down completely on a wire rack.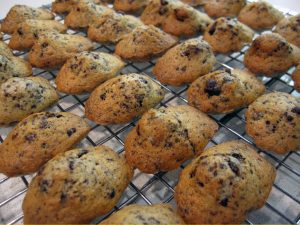 As you can see below, the madeleine were a huge success! 🙂