Broccolis lovers: this one is for you! And if you are one of those who for some don't like broccolis, I'd better warn you: be careful if you decide to try this recipe… you might change your mind and join the green side! No oil or dressing of any kind here, the smoothness of the avocado is more than enough to add some creaminess to the salad.
Ingredients for 1 portion:
120 g of steamed broccolis
120 g of grilled chicken breast
1/2 ripped avocado (about 50 g)
80 g of cucumber (about 1/3 of a large one)
10 g of sunflower and pumpkins seeds mixed together
1 teaspoon of lemon juice
Salt, pepper
Times:
Preparation: 20 mins
Cooking: none
Rest: none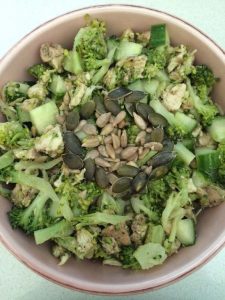 1- Tear the broccolis into tiny pieces and chop the grilled chicken the same way. Cut the cucumber in 4 pieces lengthwise, remove the seeds and cut into small pieces.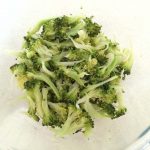 2- Cut the avocado in 2 and remove the flesh with a large spoon. Chop it into small bits and pour the lemon juice over, mix well, and add to the broccolis. Squash everything together (I do it by hand but you can use a spoon) until it is almost mashed.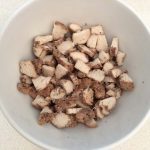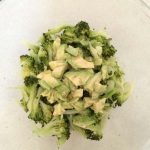 3- Add the chicken, the cucumber, salt and pepper, and mix well (with a spoon this time).
4- Last but not least: sprinkle with the sunflower and pumpkin seeds, and enjoy this bowl of healthiness!
| | | | | |
| --- | --- | --- | --- | --- |
| | GLUCIDE | LIPID | PROTEINS | CAL |
| 120 g of brocoli | 3,35 | 0,6 | 25,2 | 36 |
| 120 g of chicken | 0 | 4,8 | 26,4 | 150 |
| 1/2 avocado (50 g) | 1,75 | 11 | 1 | 110 |
| 80 g of cucumber | 1,2 | 0,16 | 0,48 | 8 |
| 10 g of seeds | 0,8 | 3,05 | 2,5 | 60 |
| TOTAL | 7,1 | 19,61 | 55,58 | 364 |