This salad is really close to what restaurants call "cobb salad" in their menu, and is one of my favourite. Not only because I love (almost) all the ingredients in it (except for the tomatoes, but I try to eat them anyway), but also because it is the kind of ingredient I always have in my kitchen. Today the ripe avocado triggered the lunch menu idea as I didn't want to throw it away.
Ingredients for 2 portions:
1 round lettuce
1 large avocado
100 g of lardons (or bacon if you don't have lardons)
2 chicken breasts
10 cherry tomatoes
1 teaspoon of mustard
1 tablespoon of vinegar
2 tablespoon of olive oil
Salt, pepper
Times:
Preparation: 15 mins
Cooking: none
Rest: none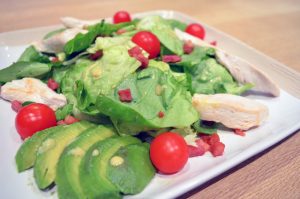 1- Wash the salad and drain it. Wash the cherry tomatoes.
2- Slice the chicken breasts and cook them in a greased hot pan.
3- In another pan, cook the lardons until crispy, and put them on kitchen paper to absorb the extra oil.
4- Cut the avocado in half, remove the flesh, and slice each half.
5- The vinaigrette: In a bowl, mix the mustard, salt, pepper and vinegar vigorously with a folk. Add the olive oil and mix again until smooth (if the mustard is too strong, you can add a teaspoon of milk to soften the vinaigrette).
6- Arrange the salad leaves in two large plates, then spread the different ingredient all around and bon appetite!