25 degrees under the sunny London sky, and wonderful neighbours that invited us over for a nice barbecue, what else could we wish for? With the barbecue came a super salad that I really enjoyed (surprisingly as I don't like fennel, or at least I thought so as it was actually really nice in that salad!). I enjoyed it to the point where I stole the recipe to share it here with you.
Ingredients for 2 portions:
2 hard-boiled eggs
1 chicory
1 fennel
1 romaine lettuce heart
1 carrot
1 avocado
2 white onions
20 g of sunflower seeds (optional)
1 tablespoon of lemon juice
1 tablespoon of soya sauce
1 tablespoon of olive oil
Salt, pepper
A pinch of curry powder, or chilli (optional)
Times:
Preparation: 20 mins
Cooking: none
Rest: none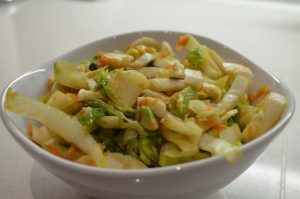 1- Cut the chicory in half, remove the trunk, and slice the halves. Do the same with the fennel. Then cut the lettuce. Wash all the vegetables and drain. Peel wash and grate the carrot.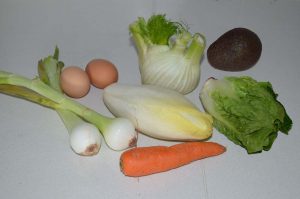 2- Slice the onions finely.
3- Cut the avocado in half, remove the flesh with a large spoon and chop into dices. Spread the lemon juice over and mix gently.
4- Peel the eggs and crush them with a folk.
5- Put all the ingredients into a large bowl. Mix the olive oil, the soya sauce, salt, pepper and spices together, and add them to the salad. Mix well, and it's ready!