That recipe is one of my secret weapons that I like to bake when I am running out of time, but still want, or at least try, to impress my guests. You can really play with the decoration (lemon slices, olives, salad) to make it look waw, with a minimum of effort.
Ingredients for 6 portions:
2 tuna cans
20 cl of creme fraiche
3 eggs
1 onion
2 teaspoons of tomato puree
3 teaspoons of curry powder
About 20 pitted black olives
8 olives to decorate (optional)
1 tablespoon of olive oil
1 garlic clove
1 lemon
1 pinch of salt
Times:
Preparation: 15 mins
Cooking: 45 mins
Rest: 2 h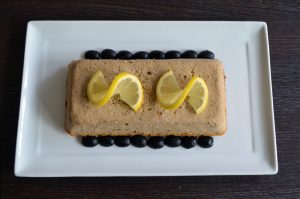 1- Preheat the oven at 180 Celcius degres. Chop the onion finely in a food processor. Then add the eggs, the crème fraiche, the tomato puree, the drained tuna, the curry and salt, and mix well. Set aside in a bowl.
2- Mix together the garlic, the olive and the olive oil.
3- Pour half of the tuna batter in a greased rectangular cake tin. Spread the mixed olive in the middle (leave 1 cm on the edges), and pour the other half over it.
4- Put into a bain-marie and in the oven for 45 minutes. At the end, let it cool down before taking the terrine out of the cake tin, and keep in the fridge at least 2 hours before serving it, with some olives on the top, lemon slices and some lettuce.