« Loubieh bi zeit », means literally "beans in oil", even though there is not so much oil in this recipe, or at least not in the way I do it. I have to say it is not my favourite mezze, but still, it is an easy one to do, and typical from the Lebanese cuisine. I had to share it with you! 🙂
Ingredients for 4 portions:
About 400 g of mange-tout beans
4 to 5 tomatoes
1 onion
2 to 3 tablespoons of olive oil
2 garlic cloves
Salt, pepper
Times:
Preparation: 15 mins
Cooking: 20 mins
Rest: none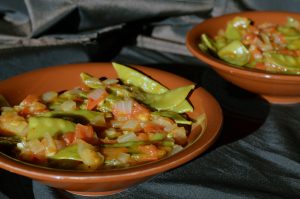 1- Chop the onion and the garlic. Chop the tomatoes into small dices.
2- Put the onion and the garlic in a hot pan with a few drop of oil, leave for 3 minutes while stirring gently from time to time. Add the tomatoes, salt, pepper and leave for another 3 minutes.
3- Add the beans, and cook for 15 to 20 minutes covered, stirring regularly. After 15 to 20 minutes what is left of the sauce should be a little bit thick and the beans soft.
4- Remove from the heat, add the olive oil and mix. Enjoy either warm or at room temperature, with Lebanese bread.