One thing I love with my cooking blog is the interaction with other food lovers, and sharing tips with them. This recipe was given to me by Gene, who posted it as a comment under one of my recipes. I have done it a couple of time already, and I can confirm that it is as pretty as it is tasty.
Ingredients for 4 portions:
The peppers:
3 or 4 red peppers (green or yellow work too according to your preferences)
2 garlic cloves
3 tablespoons of olive oil
1 tablespoon of balsamic vinegar
The mashed avocados:
3 large avocados
Half a lemon
Salt, pepper
Times:
Preparation: 20 mins
Cooking: 30 mins
Rest: 12 h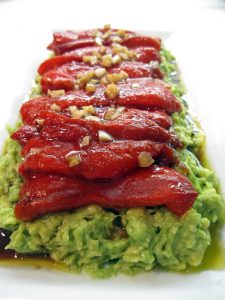 The peppers:
1- Preheat the oven at 200 Celsius degrees. Cover an oven trail with kitchen foil and place the peppers over it. Put in the oven for 20 to 30 minutes, until the skin start to blacken. Then remove from the oven and let cool down for a couple of minutes. Remove the skin, the liquid, and the seeds and slice them.
2- Chop the garlic finely. Pour a tablespoon of olive oil in a recipient (that you will later cover with a lid and put in the fridge overnight) and line pepper slices over it until you cover the bottom of the recipient. Spread a little bit of garlic, pour another tablespoon of olive oil, and add again another layer of pepper slices. Keep going until there's no more pepper left. Once you are done, add the tablespoon of balsamic vinegar, cover the recipient and put in the fridge over night.
The mashed avocados:
3- The next day, cut the avocados in two, remove the flesh, and mash it with a folk. Squeeze the lemon juice over it, add salt, pepper, and mix again.
Dressing the plate:
4- Put the mashed avocado on a nice platter, drain a little bit the marinated peppers and put them over the avocado with some garlic bits to decorate. Keep in the fridge until ready to serve.