I never ever liked tomato, especially after being forced to eat them when I was a kid. Those things stays 😛 I still try to find tricks though to eat some from time to time as they are very beneficial for the health. This simple (but efficient!) recipe did the work. I won't have it everyday but can make an effort from time to time.
Ingredients for 2 portions:
2 tomatoes
Half a large cucumber
1 garlic glove
1 tablespoon of chopped parsley
1 tablespoon of olive oil
1 teaspoon of balsamic vinegar
½ teaspoon of cumin
Salt, pepper
Times:
Preparation: 10 mins
Cooking: none
Rest: none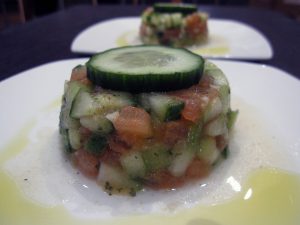 1- Wash and peel the tomatoes and the cucumber, and remove the seeds in both. Then cut them into small dices and put them into a bowl.
2- Chop the garlic glove and add it to the vegetables with the chopped parsley.
3- Add some salt, pepper, cumin, vinegar and olive oil and mix well. Keep in the fridge until ready to serve.