Kale salad has been used since the romans, and was brought by the British in North America during the 17th century. It is super rich in vitamins A, vitamin K and proteins, and contains 92% of the 9 essential amino acids that our body can't synthetize itself and can only find in food, a real winner!
Ingredients for 4 portions:
1 small butternut squash
4 grilled chicken breasts
2 bags of kale salad (about 100 g / portion)
1 red onion
10 g of sunflower and pumpkin seeds
2 tablespoons of olive oil
Salt, pepper
Times:
Preparation: 20 mins
Cooking: none
Rest: none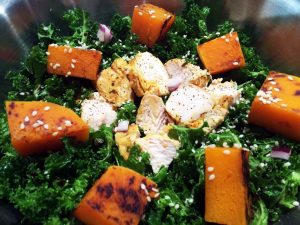 1- Peal and cut the butternut squash into 3 to 4 cm side squares, and steam them for 5 minutes. Then grilled them on a pan or a grill with a few drops of oil for 6 or 7 minutes, while stirring regularly.
2- Cut the grilled chicken into pieces and chops the onion.
3- In a large bowl, mix the kale salad with the olive oil… with your hands! Squash the leaves to softened them and help the oil get through. Add some salt and pepper and split the kale evenly into 4 individual plates or bowls.
5- To finish off, divide evenly the chicken, the onions, the butternut squash and the grains into 4 portions, and spread them into each plate.
6- Finally: seat, and enjoy for less than 400 cal!
| | | | | |
| --- | --- | --- | --- | --- |
| | CARBS | LIPIDS | PROTEINS | CAL |
| 100 g of kale | 10 | 0,7 | 3,30 | 50 |
| 120 g of chicken | 0 | 4,80 | 26,40 | 150 |
| ¼ of butternut | 12 | 0 | 1,2 | 45 |
| ¼ of red onion | 2,6 | 0,08 | 0,48 | 13 |
| ½ t.s. of olive oil | 0 | 5 | 0 | 45 |
| 5 g of seeds | 0,4 | 1,5 | 1,25 | 30 |
| TOTAL | 25 | 12,08 | 32,63 | 333 |